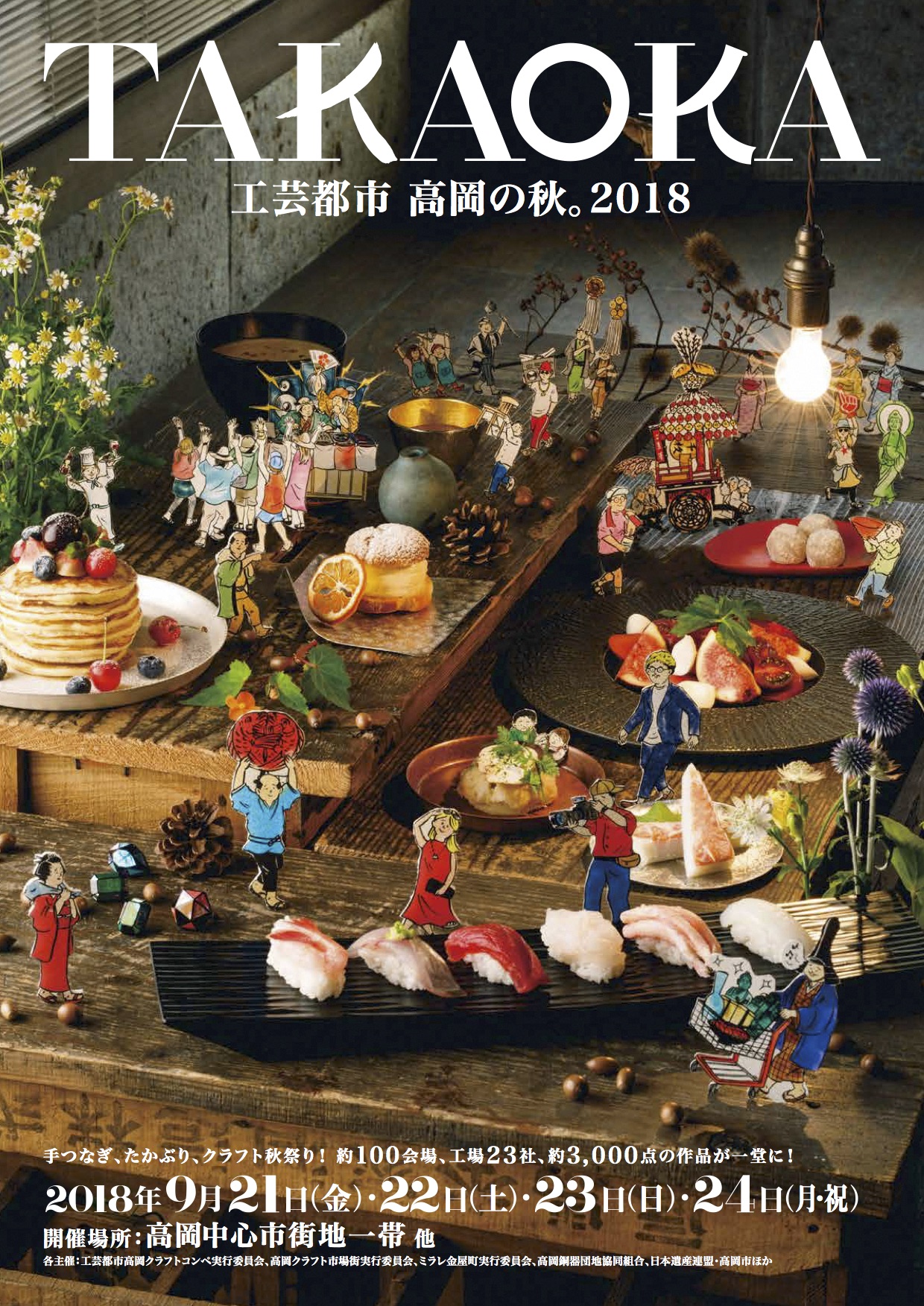 "Autumn in Takaoka, City of Industrial Arts" will be held again this year!
Enjoy 5 huge crafting events over 4 days. Held 9/21 until 9/24 in the city center.

Takaoka's annual autumn crafting event is powering up this year! Running from 9/21 (Fri) until 9/24 (Sun – holiday), at roughly 100 venues and 23 factories in Takaoka's city centre, there will be over 3,000 crafted items for visitors to enjoy.

Particularly on 9/22 (Sat), there will be 5 huge events running at the same time. Here's a quick look at what's in store!

●Takaoka, City of Crafts: Craft Exhibition 2018 (9/21-25)
A comprehensive exhibition showcasing the works of the country's greatest craftsman in Takaoka since 1986. You can also buy works which take your fancy. From metalwork and lacquer to glass and furniture, a wide range of items across materials and uses will be available.
*Venue : Takaoka Daiwa 4F Event Hall
*URL:ccis-toyama.or.jp/takaoka/craft



●Takaoka Craft Market Town (9/21-24)
Whether you want to see, buy, or experience crafts – or even eat some delicious food with crafted cutlery, this event will allow you to enjoy Takaoka's crafts from all angles. From workshops you won't get anywhere else, to talking with the artisans, there's plenty of unique opportunities here!
*Venue : Based around Yamachousuji, also in Takaoka station, Otaya-doori, etc.
   *URL:ichibamachi.jp

●Mirare Kanayamachi (9/22-23)
The timber facades and cobbled streets of Kanayamachi, the metalworking district, will be host to a variety of events – from guided tours to talks over tea, to craft exhibitions, and a student fashion show. The vibrant streets will be alive!
*Venue :Around the streets of Kanayamachi
   *URL:www.mirare-kanayamachi.com/

●Copperwork Complex (Douki Danchi) Open Factory (9/22)
This copperwork complex gathers dozens of crafts companies, from casting to processing to completion, and makes their operations open to the public. Take this unique chance to see the action up close!
*Venue : Toide Douki Danchi area
 *URL:doukinomirai.jp

●Japan Heritage Summit in Takaoka (9/22-23)
In 2015, Takaoka was the first place whose story was designated as Japan Heritage by the Agency for Cultural Affairs. As well as that story (Flourishing Folk Culture Under the Rule of the Maeda Family of Kaga), a story produced with other cities about a port used by the cargo ships that sailed Japan during the Edo period (New Space for Dreams of Men Who Crossed the Stormy Sea) has also been designated. At this summit, the country's 67 stories (including Takaoka's) will be brought to you by professional storytellers and cultural representatives.
*Venue :Based in the Center for Lifelong Study, as well as Kanayamachi, Yamachousuji, etc.