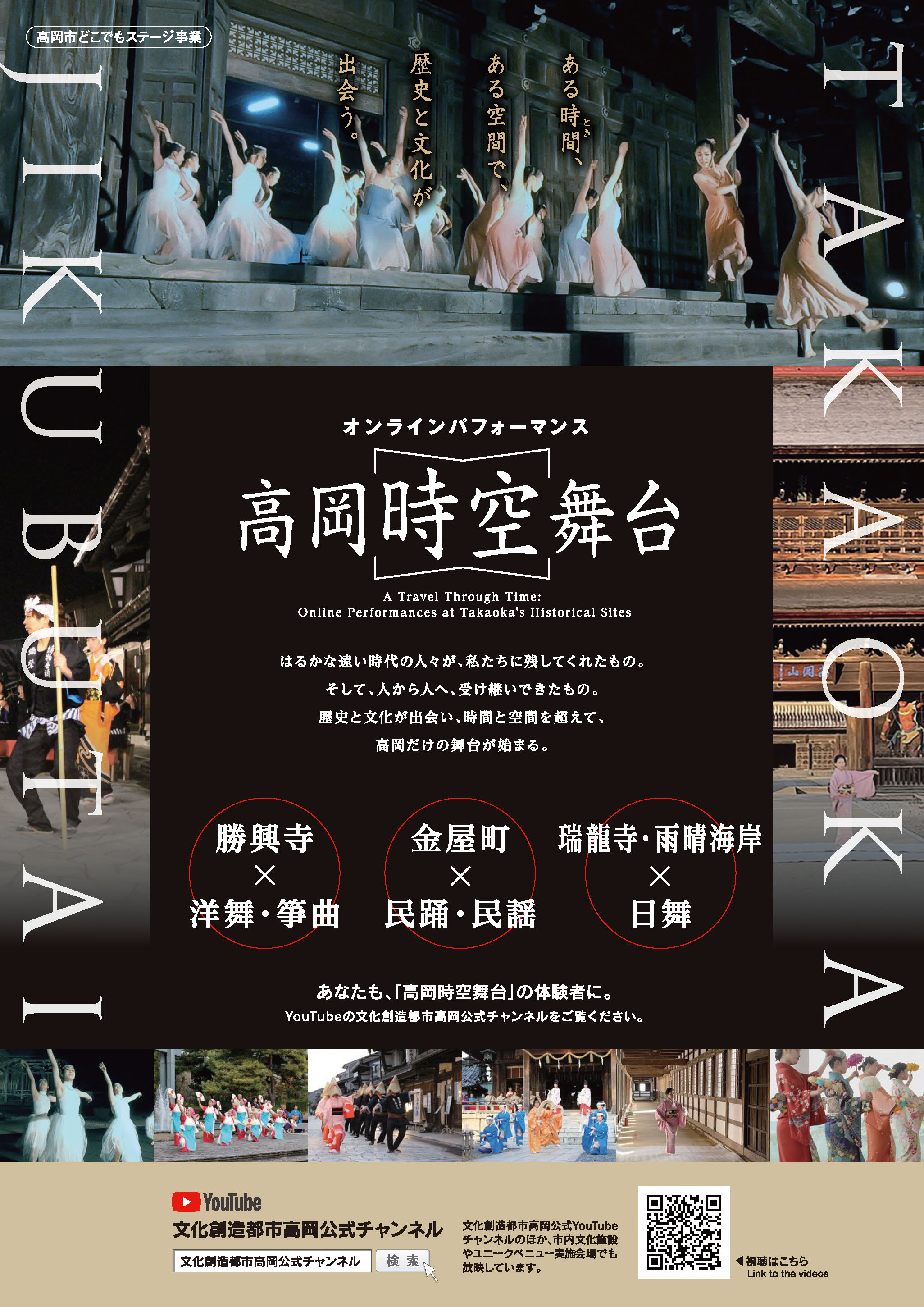 "Travel through Time Performances at Takaoka", an online performance video showing traditional cultural arts, music, and dance by local artists is now distributed on the Takaoka Cultural Creativity City Official Channel on YouTube with historical cultural assets and the city scape of Takaoka as a new stage venues.
Last year we distributed three videos works showing traditional cultural arts and dance that were performed at Shokoji Temple, Kanayamachi, Zuiryuji Temple, and the Amaharashi Coast. On this occasion, we have produced and distributed two new works, with the stage set at Yamachosuji and Mt.Futagami!
Each work features an atmospheric stage, where history and culture are fused, and are all works worth watching.
The following is an introduction to the two works distributed on this occasion.
➀ Singing in Harmony with the Seasons in Yamachosuji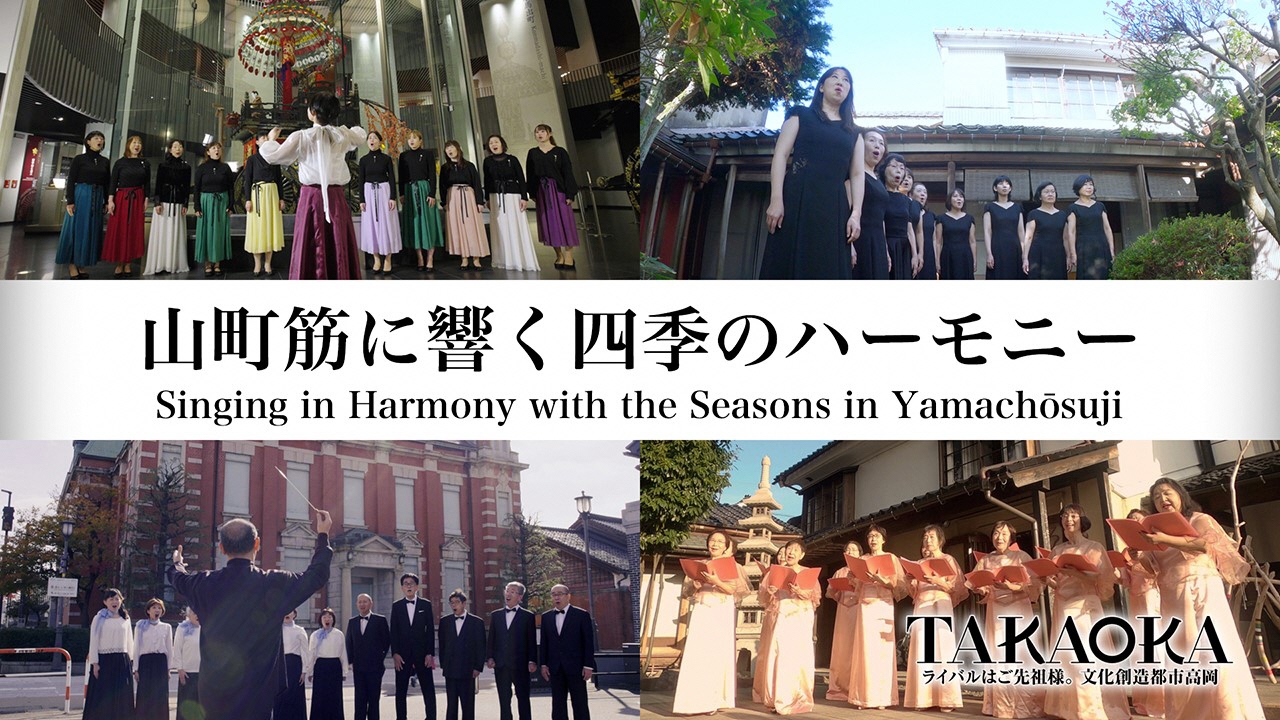 【Shooting place】Yamachosuji(Takaoka Mikurumayama Hall, Dozodukuri no Machi Museum, Yamacho Valley, Red brick building), Suehirozaka Small Park
【Content】Chorus
【Performers】Joto Ongakuin, "Dolce" Female Chorus, Female Chorus Voce Fontana,
"Ongakushitsu" Chorus Group, Japan Boy Scouts Takaoka 11th Beaver Group
【Choral music supervision and arrangement】Chiyoko Matsui
Yamachosuji is a town with the remnants of a wide variety of historical landscapes, including brick houses and Western architecture, in addition to its storehouses, with their traditional Japanese architectural style, and for this reason, it has been designated as an important preservation district of historic buildings. (Within Takaoka City, the towns of Kanayamachi and Yoshihisa have received the same designation, and Takaoka is of only four cities nationwide to have three designated important preservation district of historic buildings within the same city.)
Kingetsu Murosaki, composer of "Sunset", with the well-known lyrics "Gin-gin, Gira-Gira the Sunset is Setting" was born and raised in Yamachosuji, and after music composition activities in Tokyo, formed a people's choir in the city, and developed a wide range of other musical activities.
The musical culture left by Kingetsu remains a treasure passed down today by the people of Takaoka. All four chorus groups, active within the City area, will sing children's songs representing the four seasons on the stage that is the streets of Yamachosuji.
Please enjoy this beautiful harmony, where history and singing are interwoven.
▼Video 'Singing in Harmony with the Seasons in Yamachosuji/online performance "/"Travel Through Time Performances at Takaoka" work'
②Spiritual Echoes on Colorful Autumn Peaks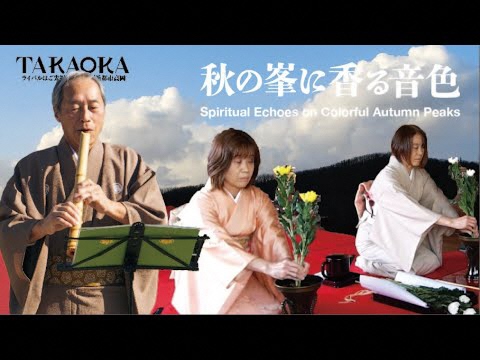 【Shooting place】Mt.Futagami, Bussharizan Bussekiji Temple
【Content】Shakuhachi, flower arrangement
【Performers】The Tozanryu Shakuhachi Foundation Grandmaster Kozan Tokai (Shakuhachi), Flower arrangement master Ikenobo Takaoka Branch (Flower arrangement)
Mt.Futagami is well known as a mountain blessed with an abundance of natural beauty that changes with the seasons. Otomo no Yakamochi, a representative poet of the Manyoshu, is known for being so impressed by the beautiful nature of Mt.Futagami that he expressed it in numerous poems.
Bussharizan Bussekiji Temple, on the "Mt.Futagami Manyo Line", a driving course where you can enjoy the scenery of Mt.Futagami, is a direct descendant of Eihei-ji Temple (Fukui Prefecture), the head temple of the Soto sect of Zen Buddhism, and is popular among local residents for its red-ink stamp tours, zazen meditation, sutra copying, and other activities. You are treated to a truly spectacular view of the Sea of Japan and the Tateyama Mountain range from the are in front of the Jizo-do.
The sound of the Shakuhachi played with Toyama Bay, the Tateyama Mountain Range, and Takaoka City Center in the background, leaves a soft, but powerful, impression. The flower arrangement performed in the austere space of Bussekiji Temple is also truly a sight to behold.
This video was planned, produced, and edited by students from the Toyama University Graduate School of Arts and Culture. Note the exciting chemistry between young sensibilities and traditional arts and culture.
▼Video "Spiritual Echoes on Colorful Autumn Peaks/Online Performance/"Travel Through Time Performances at Takaoka"
---
The videos distributed last year were the following:
〇Dancing in the moonlight at Shokoji Temple
【Shooting place】Shokoji Temple
【Content】Western dance, Koto music
【Performers】Kasai Dancing Company (Western Dance), Ikutaryuseigensha Katakagokai (Koto Music)
〇Traditional Dancing Cheering the Town of Metal Castors
【Shooting place】Kanayamachi (Row of Houses with Lattice, Kanayamachi Pocket Park, Kanaya Green Park), Arisoshohachimangu
【Content】Folk Dance, Folk Song
【Performers】Folk Dance, Folk Song Hananokai, Sato Matsukoryu Matsuhirokai, Yagaefu Preservation Society
〇Connecting Age and Culture
【Shooting place】Zuiryuji Temple, Amaharashi Coast (Roadside Station Amaharashi)
【Content】Japanese Dancing
【Performers】Kiku Hanakawa (Hanakawaryu), National Institute of Technology, Toyama College Imizu Campus Japanese Dance Club
*******************************************
Each of these videos is a work that invites you to discover new attractions, by combining the historical assets and culture of Takaoka City with its own particular charms.
At the Takaoka Cultural Creativity City Official Channel on YouTube, you can see a digest version of approximately 5 minutes in addition to the main works.
Just sit back and enjoy works with different techniques and performances than you would normally see at a hall.