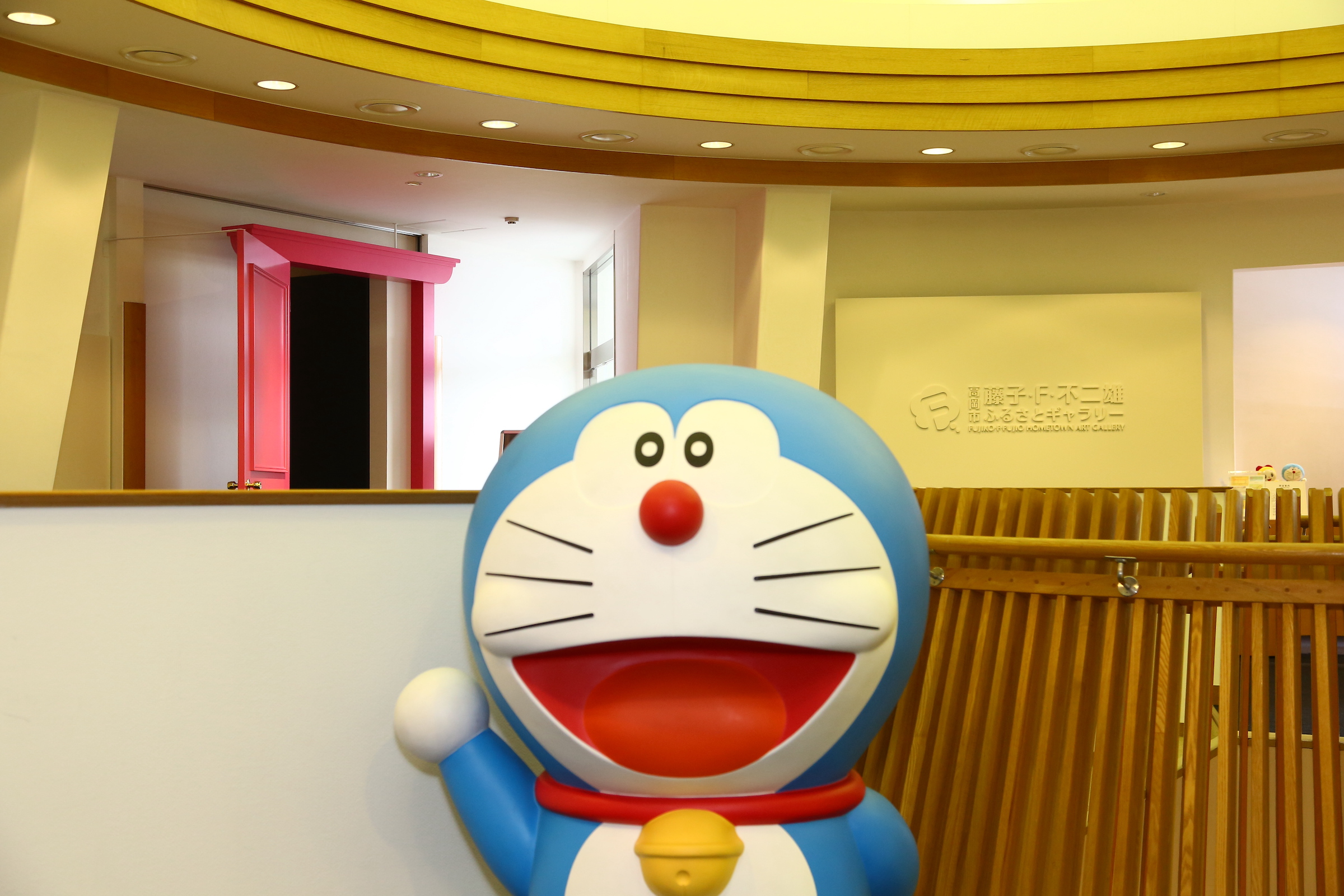 Works of Fujiko.F.Fujio from Takaoka consist not solely of hilarious scenes but have many scenes where the characters end up in tight squeezes.  Even with cases of unexpected happenings developing into greater troubles.
The Fujiko.F.Fujio Hometown Art Gallery in Takaoka is now displaying an exhibition of original drawings with crisis as the theme,  "Crisis, Trouble, Happening!!".   Centering on their major work "Doraemon", heart pounding and exciting original pictures are selected with care and exhibited from such as "Kiteretsu Encyclopaedia", "Perman", "Mami with Preternatual Power".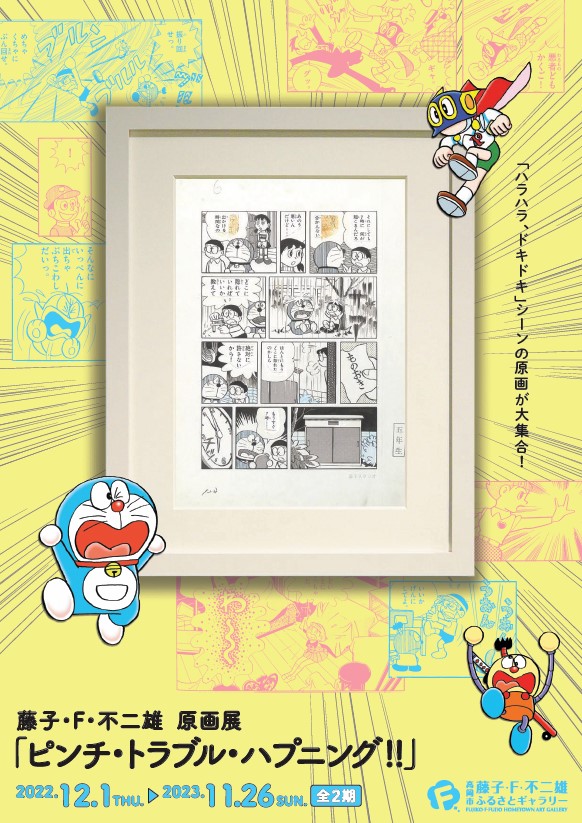 In addition, showing of a new short movie "Umeboshi Denka & Doraeman [Panparopan-no-Suppappa] "will be starting to be shown and there are also plans for sales of original pins and post cards in addition to the new exhibition.  Why not pay a visit to the gallery full of must-see things on this occasion?
The large sized tapestry of the Hometown Gallery shown in the Takaoka Station South-North Free Passage is also to be of the design of the new exhibition.  It's a must see for those of you who use the station for sightseeing, commuting or going to school!   Furthermore, postmarks stamped on post cards and letters posted in the Doraemon Postbox in Takaoka Station Kotsu Plaza has been renewed to the new design.  Please stop by the Takaoka Station when you visit!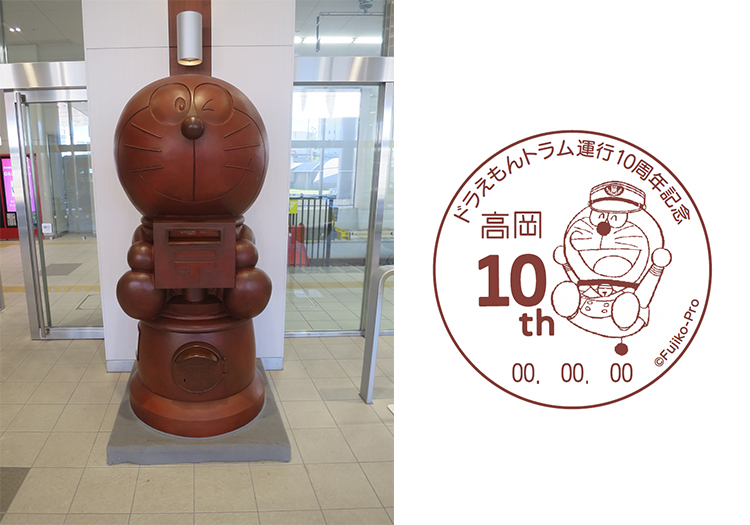 The new postmark is a memorial design to celebrate the 10th year of operation of the Doraemon Tram Service
■ Fujiko.F.Fujio Original Pictures Exhibition "Crisis, Trouble, Happening!!"
Exibition Period:  Thursday, December 1st, 2022 to Sunday, November 26th, 2023
(First Period) Thursday, December 1st, 2022 to Sunday, May 28th, 2023
 (Second Period) Wednesday, May 31st, 2023 to Sunday, November 26th
*Schedule for exhibition and the first period and the second period are liable to be changed.  Your understanding is appreciated.
Fujiko.F.Fujio Hometown Art Gallery in Takaoka
〔Address〕Takaoka Art Museum, 2nd Floor, 1-1-30 Nakagawa, Takaoka City
〔Open Hours〕9:30 to 17:00(Entrance is before 16:30)
〔Closed Days〕Mondays ※ Open when Monday falls on a holiday and closed on next        week day  
Beginning and End of Year(29th December to 3rd January)
〔Admission Fee〕General, University Student 500Yen (400Yen),  High School Student, Junior High School Student  300 Yen (240Yen),  Elementary School Student, Young Children (Over 4 year of age)  200 yens (160 yen),   Under 4 years of age  Free
※Inside ( ) is the group admission fee for over 20 persons.
※Free for persons with handicapped person's passbook and up to one accompanying person.
※Persons over Age 65 is 400 Yens
〔Homepage〕https://fujiko-artgallery.jp/
〔Inquiries〕0766-20-1170
©Fujiko-Pro