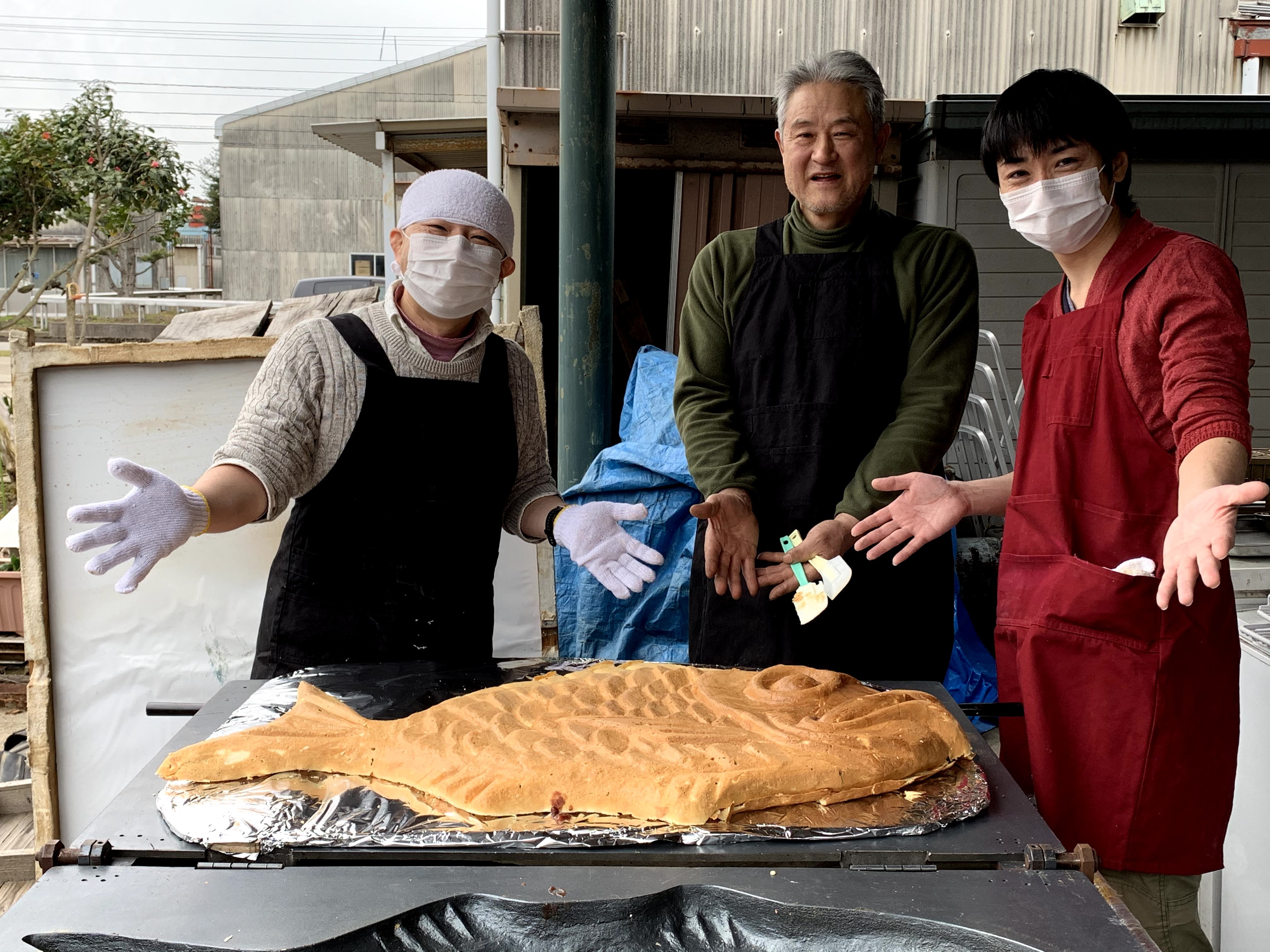 An In-Depth Report on a Metal Caster's World's No. 1 Taiyaki Project
〜A Growing Project That People (Young and Old, and from in and outside the City) Are Becoming a Part Of: An In-Depth Report on a Metal Caster's World's No. 1 Taiyaki Project〜
Takaoka copperware has over 400 years of history. Because copperware making is made up of separate, specialized steps, in Takaoka there are craftspeople possessing diverse skills. In this city, companies and studios frequently collaborate with other companies and studios to conduct innovative joint projects. Also, novel, one-of-a-kind projects are often launched. These activities are one reason why the people of Takaoka are very proud of their city.
Located in Takaoka, Hoxsin Industries is a unique studio. Today we will introduce to you its fun and delicious project that is gathering momentum.
*******

Nameplates, name signs, monuments, and custom branding irons—Hoxsin Industries produces the castings its customers request. Hoxsin Industries's FUKITO, a beautifully-designed cast dish made with recycled aluminum, won a Good Design Award in 2016. Known for having an open mindset, the company creates products that meet the needs of the present age.
Michihiro Jyozuka is the CEO of Hoxsin Industries and a Certified Skilled Worker in casting. There is one more thing Jyozuka is, though. He is a taiyaki (fish-shaped stuffed waffle) maker. About twenty years ago, Jyozuka created an obanyaki (stuffed waffle) pan in the shape of the Takaoka Daibutsu (large statue of Buddha). He did so because he wanted to use his skills as a veteran casting craftsman and energize Takaoka. Since then, he has made and sold Buddha statue-shaped obanyaki at various city events. This is not Jyozuka's only accomplishment. He has created easy-to-follow recipes, has sold ingredients that people can use to practice making sweets, and has referred people to suppliers. Helped by these efforts, he has sold over 180 custom taiyaki and obanyaki pans. These pans were sold to people located all over Japan.
A TV station telling Jyozuka that it wanted to make a 2-meter-long taiyaki was what prompted him to launch this project. At the time Jyozuka answered that it was too difficult to make a 2-meter one, and the project was never started. However, afterwards Jyozuka pondered the idea. In 2015, he created a 1-meter-long taiyaki pan. A special cooking table for the pan was built in 2016. He presented his creations to interested citizens and exhibited them at trade fairs. Also, several times, he used the pan and tried to make a 1-meter-long taiyaki.
Jyozuka commissioned a company in Osaka to construct the cooking table. He said that the workers at the company had much fun making it.
After Two Years of Hiatus, He Began Again in 2018
In 2016, Jyozuka was trying to make a taiyaki using the pan. He could successfully make a 1-meter-long taiyaki waffle that was stuffed with 250 to 300 normal-sized taiyaki. But when Jyozuka put batter and sweet bean paste into the 1-meter-long pan (like he would if he were making taiyaki normally), the huge taiyaki would not cook properly. Jyozuka was stumped. Consequently, the project went on hiatus for some time.
Then, after two years, at the end of 2018, urged by friends and acquaintances who knew about his plan, Jyozuka decided to try again. In January 2019, he held the first project-related event.
This event was a get-together for people who were interested in the project. For the first time in a while, Jyozuka heated the taiyaki pan. Attendees mingled and talked. Each of them suggested ideas that he or she thought might be helpful.
The following photos were taken when I went to the get-together to cover it.
Coincidentally, a TV episode about taiyaki was being aired that day. Through it, people learned that the biggest taiyaki in Japan was 60 centimeters long. This meant that if Jyozuka can successfully make a taiyaki using the 70-centimeters-long or 1-meter-long taiyaki pan, he would become the record holder. He could even maybe go into Guinness World Records.
High Schoolers and University Students Begin Conducting Research, and an Enormous Taiyaki Is Made
Afterwards, every month the project members tried to make a huge taiyaki. Failures were turned into opportunities for improvement. Every time they did not succeed, people from the city and outside it came to assist them. Together with the members they tried to figure out what went wrong, making suggestions.
In 2019, the project members asked Manabu Iwai, a professor of engineering at Toyama Prefectural University, and Takenori Fujikawa, a science teacher specializing in physics at Takaoka Koryo High School, to help them. Giant taiyaki making then became a research project for the schools' students.
After a huge taiyaki was made in May, the students conducted more research. In October, at the school festivals of Toyama Prefectural University and Takaoka Koryo High School, the students presented their research project.
How to Make a Mille-Feuille Taiyaki
In just a year the World's No. 1 Taiyaki Project had evolved tremendously. Because I wanted to talk with the project members, in March 2020 I visited a taiyaki-making session. This was the first time in about a year that I met them.
The day I visited the project members, they were filming a how-to video on how to make a giant taiyaki, so that people everywhere could make one for events. Jyozuka and the two teachers—Iwai and Fujikawa—were going to be the cooks.
On this day the three made a mille-feuille taiyaki. The students created the recipe. Waffles, sweet bean paste, and sweet potatoes are layered. At the school festivals tasters loved the mille-feuille taiyaki.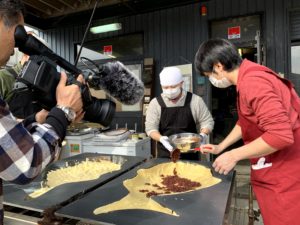 "I Want to Make Takaoka 'The City of Taiyaki'"
"This project isn't just for enjoying taiyaki. Through it, I want people to use their skills, and I want them to make things happen by doing something they like to do," Jyozuka said when I asked him what the aim of his project was.
"Everyone has his or her idea for the project. What if we ask people to imagine a taiyaki they would like to eat? We could create a pan for it, cook it, and eat it. We could prepare the taiyaki and give it as a gift. If this movement spreads, it would be fun and interesting. People might start to say, 'Every family in Takaoka serves taiyaki to guests!'"
Currently, a pan in the shape of a shishimai (lion-dance) lion is being finished. An Inami woodcarving artisan made the model of the lion.
Jyozuka says that the 1-meter-long taiyaki is not finished yet. He says that plenty of improvements can still be made.
"This is going to be a three-year project. I'm going to keep meeting people from various industries, and I'll ask them to advise me. I have two more years. How much can I grow this movement? When we make a taiyaki, it turns out differently every time, depending on the ability of the cook. It's not at all a finished project."
Jyozuka wants to increase the number of people who can make taiyaki, whether it is a 1-meter-long taiyaki or normal-sized taiyaki. He wants Takaoka to become the City of Taiyaki. This is Jyozuka's true ambition, his ultimate goal that lies beyond the 1-meter-long taiyaki.
Jyozuka will continue to collaborate with Toyama Prefectural University and Takaoka Koryo High School. The project members and people from the two schools will meet periodically and hold sessions. A good chance exists that serendipitous meetings with individuals during the next two years will bring about more developments.
If you've become interested, check out the project's official Facebook page and the YouTube video.

 ◎Official Facebook page: Let's Make the World's No. 1 Taiyaki!  https://bit.ly/2URDSdL
◎How to Make the World's No. 1 Taiyaki (the video the project members were filming the day the reporter visited them)