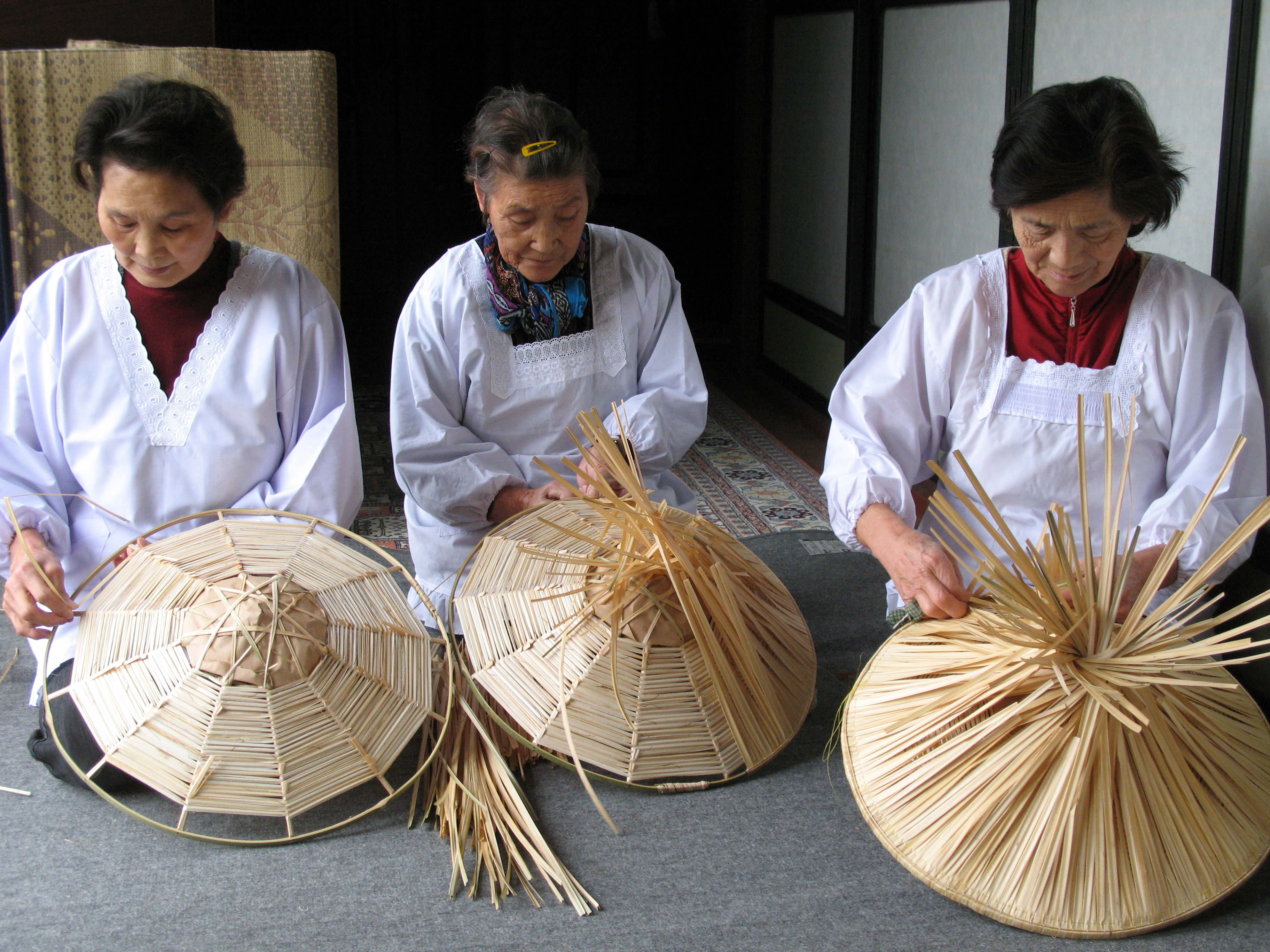 Etchu Fukuoka Sugegasa, Designated Traditional Craftwork. New Products Under Development!
The "Etchu Fukuoka Sugegasa (sedge-woven hat)", from the Fukuoka region in the city of Takaoka, was designated as a Traditional Craftwork on November 30, 2017. Sugegasa, made from a grassy plant called sedge ("suge" in Japanese), are traditionally used by farmers as a sunshade or as a type of rain gear, and today are a common part of Japanese life.
In the old days of Japan, it is believed that sedge was produced all over Japan, but today, the talent for cultivating it, weaving it, finishing the hats, and their wholesale distribution is primarily done here in the Fukuoka region, and they produce over 90% of the country's output. For example, the sandogasa from Hamamatsu in Shizuoka, famous for being used in historical dramas and the Nenbutsu-Odori, are actually made in the Fukuoka area of Takaoka. The Fukuoka region of Takaoka also produces a portion of the headpieces used in the Hanagasa-Odori in Yamagata.
Originally, the production of sugegasa started because of the high quality of sedge produced in this area, and the technique has been handed down for over 400 years. Traditionally, men made the frames and women did the weaving. In fact, it was believed that women who were good at weaving the sugegasa would also make great spouses.
Before "Etchu Fukuoka's sugegasa" were designated as a Traditional Craftwork, in 2009 it was designated as one of the country's Important Cultural Assets, and efforts to preserve the technique continued.
Along with being designated a Traditional Craftwork, efforts to produce new products, enlarge the market, and improve the industry are being undertaken. For example, the cultivated sedge in Fukuoka is superior in repelling water, so the products were typically sold in their original colors, but in recent years, Takaoka and the craft industry have been researching dyeing methods, and currently can produce 20 different color varieties. Not only are products being produced using the traditional techniques, but new products such as non-weatherproof soft hats that use thinner sedge threads, tea made from sedge, and other unique concepts are also being produced.
ーーーーーーーーーーーーーーーーーーーーーーーーーーーーーーーーーーーーーーーーー
Reference: 「菅笠マカロン」に決定 高岡、保存会開発の「帽子形」(富山新聞)
["Deciding on 'Sugegasa Macaroon' Takaoka"、Preservation Association Development "Hat Shape" (Toyama Newspaper)] 
http://www.hokkoku.co.jp/subpage/TH20180328411.htm
 ーーーーーーーーーーーーーーーーーーーーーーーーーーーーーーーーーーーーーーーーー
Sugegasa and other products made from sedge are sold at the following shops. Please check them out.
Takaoka Chiiki Jiba Shogyo Center, Phone: 0766-25-8283 (Take the Kaetsuno Bus from Takaoka Station platform number 5 and get off at Kumano-machi, 3 minute walk)

Sanchonpinzo, Phone: 0766-64-1661 (Ainokaze Toyama Railway, 7 minute walk from Fukuoka Station)

Machizukuri Fukuoka Kobo, Phone: 0766-64-0020 (Ainokaze Toyama Railway, 7 minute walk from Fukuoka Station)

Osuga Shoten, Phone: 070-5465-4257 (Ainokaze Toyama Railway, 10 minute walk from Toyama Station, 5 minute walk from Manyo Line Sakanoshitacho)