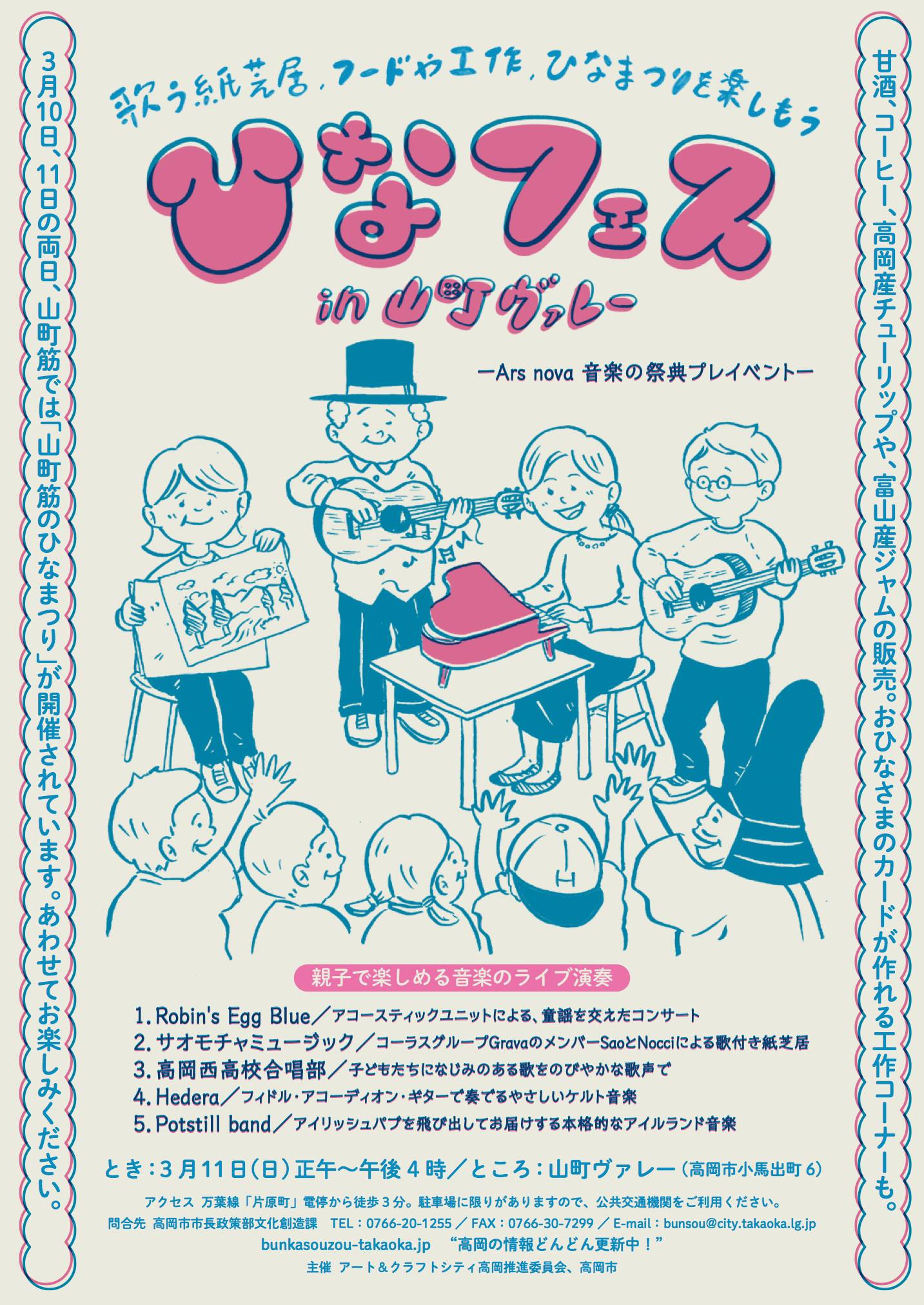 Music, food and craft works full of warmth. "Hina-Festival in Yamacho Valley" takes place on March 11 (Sun.)!
Spring is right around the corner! How would you like to enjoy Hinamatsuri (Doll's Day) in Yamacho? It's the time of the year where a presence of warmth coming from Spring can be felt in the cold with snow.
"Hina-Festival in Yamacho Valley" is an event in which 5 live acts, including a picture story musical show and Irish music session, can be enjoyed on March 11 (Sun.) at a commercial facility called "Yamacho Valley" located along Yamacho Street full of houses built like a kura, with the walls covered in mud.
We will have warm amazake and coffee ready and are planning on arranging a workshop for Hina Doll cards and an exhibition booth where customers are able to purchase cut tulips from Takaoka and Jam from Toyama. The live acts, which are free of charge, can be enjoyed by men and women of all genders and also families!
The "Yamacho Street Hina-Festival" will be held on March 10 and 11, for those who seek to enjoy the old town atmosphere as well as their housing interior and hina dolls from the various eras including Meiji, Taisho and Showa.
How would you like to feel the presence of spring along with our historic town atmosphere?
[Overview]
-Date and time: March 11, 2018 (Sun.) Noon – 4pm
-Place: Yamacho Valley (Kommadashi-machi, Takaoka-shi, Toyama-ken)
-Access: 3 minutes on foot from "Katahara-machi" tram station (Manyo-line). There are only limited numbers of parking spots. We advise you to come by public transportation.
-Admission Fee: Free of charge
-Sponsors: Art & Craft City Takaoka Promotion Committee, Takaoka City
-Contact details: Takaoka City Mayor Policy Making Department, Culture Creation Division
Tel: 0766-20-1255/ Fax: 0766-30-7299/ E-mail: bunsou@city.takaoka.lg.jp
[Performers]
1. Robin's Egg Blue/ A live concert by an acoustic unit with a mixture of nursery songs.
2. Saomocha Music / Picture story show with music by Sao and Nocci from Grava, a chorus group.
3. Toyama Prefecture Takaoka Nishi High school's choral club/ performance of well known music to children with a powerful tone.
4. Hedera/ The gentle tune of Celtic music through the harmony of fiddle, accordion and guitar.
5. Potstill band/ Genuine Irish music straight out of an Irish pub.