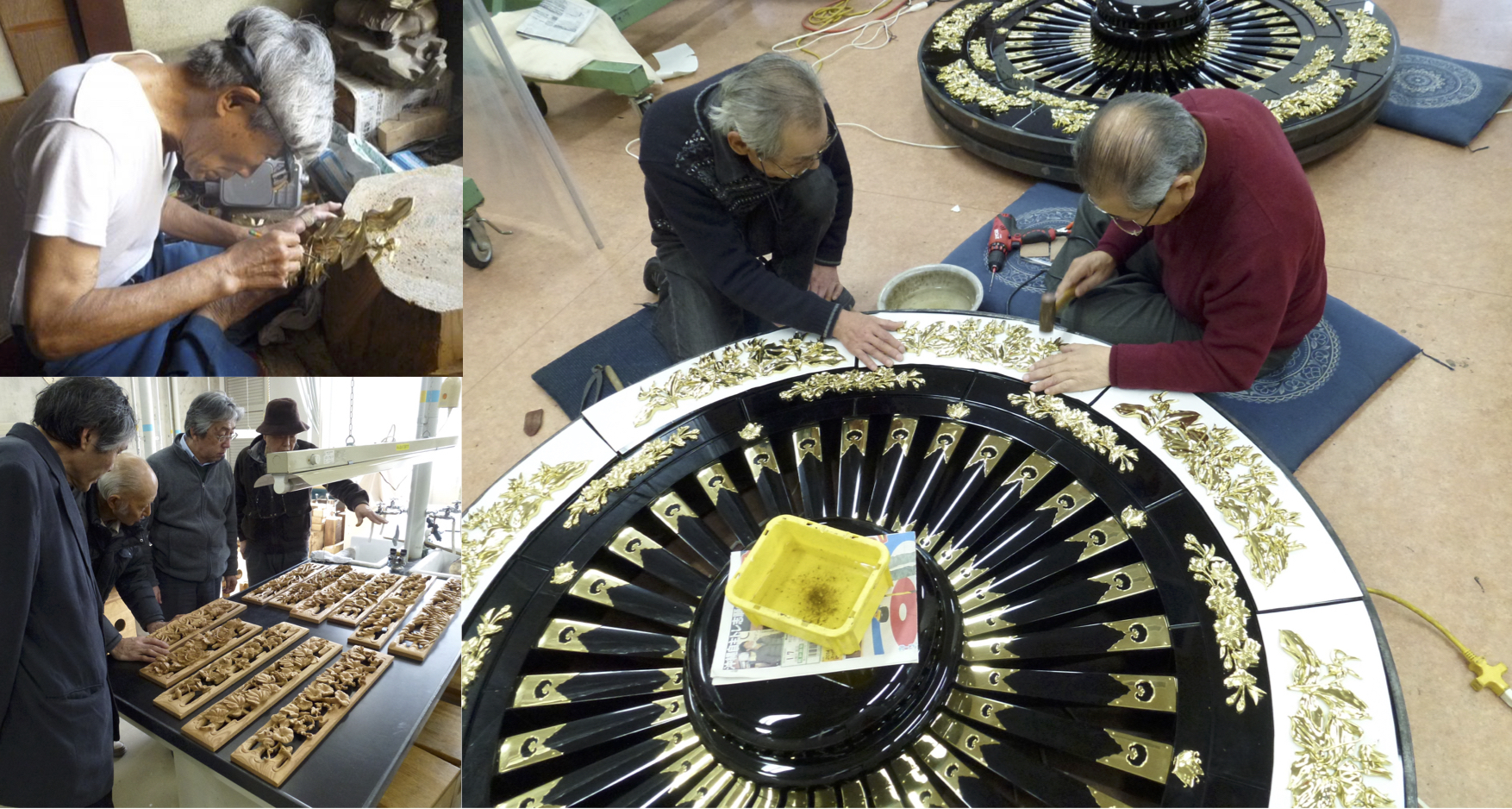 After five years of work since its conception in 2013, the "Heisei Mikurumayama" has finally been completed this spring!
"Heisei Mikuruayama"ーSupervised by mastercraftsman Osawa Komin and created with the help of local citizens and artisans, this new Mikurumayama will be revealed to the public on April 30th.
Every year on May 1st, the seven remaining Mikurumayama (mountain carriages) are carried around the town during the Takaoka Mikurumayama Festival. These mountain carriages are each painstakingly decorated according to the various areas they originate from.
The Takaoka Mikurumayama Festival, which was designated a UNESCO Intangible Cultural Heritage in 2016, is a valuable part of Takaoka's culture and embodies more than 400 years of its history, the expert skill of its craftsmen, as well as the wealth and pride of its people.
By coming together as one to create this modern version of a Mikurumayama, Takaoka citizens pass on the 400-year-old techniques and traditions to the next generation. It's a symbol of development towards the future achieved in thanks to the Takaoka City's Mikurumayama production initiative in 2013.
Designed based on opinion surveys collected from the general public, approximately one-third of its total production cost of 300 million yen was collected from local donations. The phoenix figurine that tops the carriage harkens back to the Chinese poem from which Takaoka's name originates. In the main seat of the carriage sits the founders of Takaoka, Maeda Toshinaga and Eihime. In the outer seat sits Toshinaga's only child, Manhime. Additionally, the four seasons of Takaoka Old Castle Park are beautifully depicted in the fabric of the curtains. Sculptures and metal fittings scattered across the body of the carriage depict the flora, fauna, and natural scenery of Takaoka.
The five-year-long production was started and supervised by the mastercraftsman Osawa Komin and organized by the "Takaoka Regional Cultural Property Repair Association," a group of traditional artisanal engineers based in the Takaoka area. Many young craftsmen also participated as a part of their training, as well as over 200 volunteers who helped to make the decorative umbrella that covers the carriage.
The completed work will be revealed at the Takaoka Mikurumayama Hall at 10 o'clock on Monday, April 30, and is to go on permanent display from thereon after.
◎Takaoka Mikurumayama Hall
https://mikurumayama-kaikan.jp/en/

◎State of Production of the Heisei Mikurumayama(Only in Japanese)
https://www.city.takaoka.toyama.jp/kankou/kanko/kanko/seisakujoukyou.html