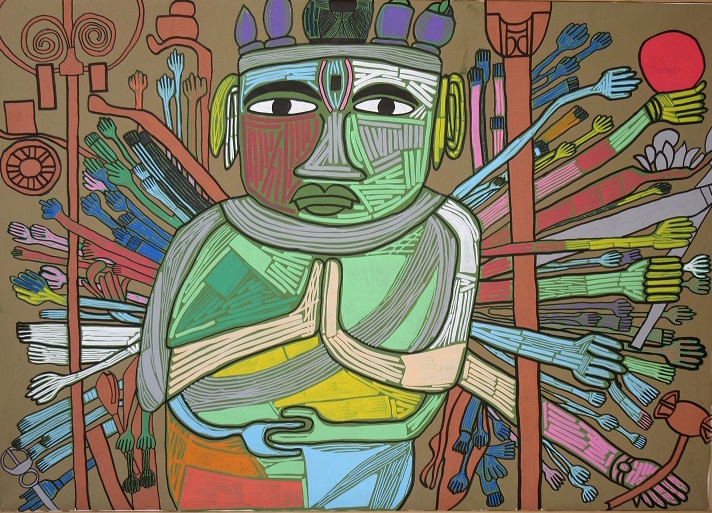 Through "Art brut", let's find values and possibilities of "being yourself" or "just living". Art brut TAKAOKA Exhibition January 24-28!
Have you ever heard of "art brut"? In French it means "raw art" and in English "outsider art". It describes art work that has been created from the artists' own impulse and creativity which have not been influenced by cultural trend, tradition, or education.
During the art brut exhibition held at Takaoka-shi museum between Wednesday, January 24-Sunday, January 28, there will not only be the "Art brut◎Takaoka Exhibition" in which artworks of artists with disabilities from Niigata, Toyama, Ishikawa,Fukui, and Shiga will be displayed, but also an artwork excavating PROJECT "Art brut? Mochikon exhibition" in which anyone can bring in their artwork and display them, released artwork, symposium, and film screening. On the last day between 4:00pm-4:30pm, there will be a "Mochikon meeting" in which each artist will show off their artworks for the "Art brut? Mochikon exhibition", will will connect to supporting future artwork activities and excavation of artworks and artists.
The big theme of this exhibition is "being yourself" or "just living", which are the keys of "art brut". Through the exhibition and other events, why don't you feel the values and possibilities as well as the diversity of art in which the theme describes?
◯Outline
Date: Wednesday, January 24, 2018-Sunday, January 28 (9:30am-5:00pm) +Admission available until 4:30pm
Location: Takayama-shi museum City gallery/Bitoku hall
(1-1-30, Nakagawa, Takaoka-shi, Toyama-ken)
Admission fee: Viewing for free
◯Symposium and film screening
Saturday, January 27
   □10:00am〜11:00am
  News film collection of kokopeli acivity
(Continuous screening of what was broadcasted on Tulip TV "News 6"
□11:15am〜11:56am
  Movie screening「A Short Film About DISTORTION」
(Recording movie of the daily life in "Yamanami workshop", a welfare office in Shiga where more   than 80% of the users are involved in creative activity)
□1:30pm~2:10pm
Lecture "Report on Art brut Japone ~About international exchange of art and culture between people with disabilities, and the Tokai-Hokuriku area department~" Social male corporation of "Minna de ikiru" Corporate department Kenichiro Sakano
   □2:15pm~2:55pm
Lecture "From Shiga prefecture From Professor Itoga to Shinsei museum and hereafter" Shiga prefecture Prefectural lifestyle cultural promotion department Shinsei museum manager Motohiko Kimura 
   □3:10pm~4:00pm
Panel session "Future of art brut that connection creates" Motohiko Kimura, Kenichiro Sakano. MC: Masanori Yoneda
  
Sunday, January 28
   □10:00am〜11:00am
News film collection of kokopeli acivity
(Continuous screening of what was broadcasted on Tulip TV "News 6"
□1:30pm〜2:11pm
Movie screening "A Short Film About DISTORTION"
   □2:20pm~3:00pm
Panel session 'For everyone to feel peace' Facility manager of Yamanami workshop Tadakazu Yamashita
MC Masanori Yoneda               
   □3:15pm~3:40pm
Lecture "From Fukui 'Let's all get on stage!'~Good relationship between people with disabilities and stage~" Representative of Minabuta Harumi Sakai            
   □3:45pm~4:20pm
Panel session"'being yourself' and 'just the way it is' ~Art for community and people with disabilities~" Representative of Minabuta Harumi Sakai
Fukui・Art and culture forum Yuko Arakawa MC Masanori Yoneda